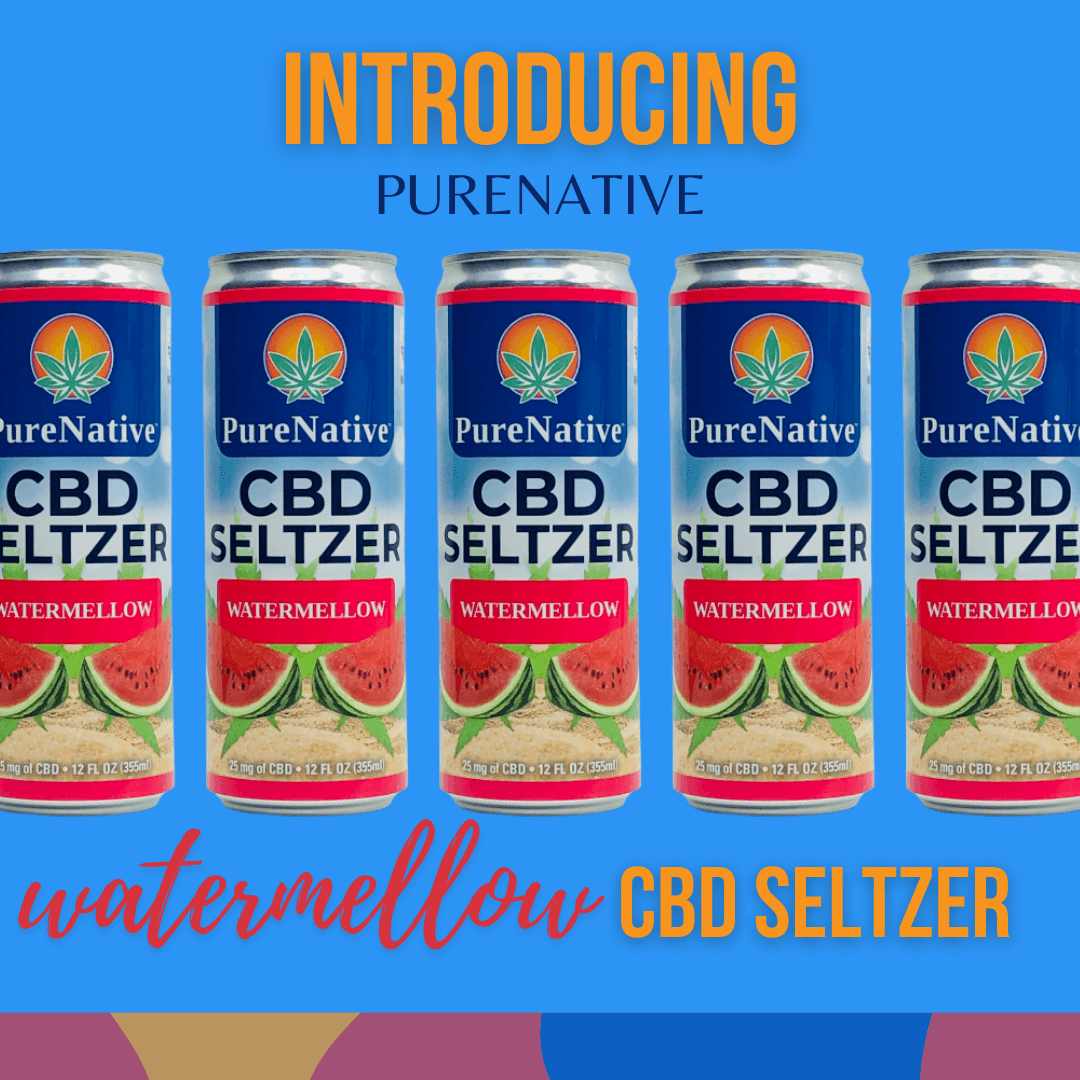 By now, you've heard the buzz: PureNative Watermellow CBD Seltzer is here! Since launching in February of 2022, this tasty new addition to the PureNative seltzer line has been gaining popularity from Florida to Colorado, Washington DC, and everywhere between. 
Interest in CBD from coast to coast is growing: According to a market analysis recently shared by Colorado-based market research firm BDS Analytics, CBD product sales grew by 48% from 2019 to 2020, and Florida's forecasted revenue from CBD sales in 2022 is anticipated to be $1.5 billion. 
But the real star of the CBD boom (or bloom?) in recent years has been the CBD beverage market. In 2021, CBD beverage sales specifically grew 60% over sales in 2020. If this trend continues, the US cannabinoid beverage market could reach $2.5 billion by 2026. That's a whole lot of Watermellow. 
But not all CBD products are created equal – and with this level of anticipated market saturation, consumers will need to place more weight on making sure their CBD beverages are made by companies they trust. A company's transparency around their formulation's safely, efficacy, flavor, and overall quality should be its top priority to ensure consumers are getting the best possible experience from their product. 
At PureNative, we take pride in our commitment to our customers by going the extra mile to ensure our products meet strict standards of quality, safety, flavor, and more. Read on for five things that make our CBD seltzers a step above the rest:
1. Florida's First CBD Seltzer 
PureNative CBD seltzer was the first ever approved CBD seltzer in the state of Florida! Our first flavor, Relaxin' Passion Mango, launched in July of 2021. Watermellow, our second flavor, soon followed in February of 2022. Both flavors are refreshing, invigorating, and perfect for drinking alone or as part of a mocktail.
2. Fresh From Florida Certified
Fresh From Florida is the Florida Department of Agriculture & Consumer Service's highest certification. Created in 1990, this program is an indicator of trusted and locally grown agricultural products. Carrying a Fresh From Florida stamp of approval means a product upholds a high standard of quality from production to sale, and PureNative is proud to have our seltzers on the list!
3. Triple-Tested 
When it comes to the safety of our customers, we believe in going above and beyond.We not only follow all federal and Florida guidelines to the highest of safety standards by making sure our verified-clean hemp extract is third-party tested by a Florida Department of Agriculture and Consumer Services approved lab; We also test our seltzers not just one, but three times to make sure you're getting the safest product possible. 
4. Healthy Ingredients, No Surprises
Our seltzers contain just four ingredients: Filtered water, cane sugar, fruit extract, and broad-spectrum water-soluble CBD. They are free of GMOs, allergens, and are a safe choice for those on a plant-based, vegan, or gluten-free diet.
5. Community-Driven, Locally Focused
A big part of the PureNative lifestyle is supporting and giving back to our local communities. We source our ingredients from the highest-quality local farms, partner with the most reliable extract manufacturers in the industry, and support local nonprofits like the Children's Advocacy Center of Southwest Florida, Inc. and the Gulf Coast Humane Society. Whether you're ordering from our home state of Florida or from any corner of the US, you can be sure your seltzer was developed, packaged, and shipped with the best intentions and quality the CBD industry has to offer! 

Want to try our new Watermellow CBD seltzer? Visit a Seed & Bean Market location or order here!