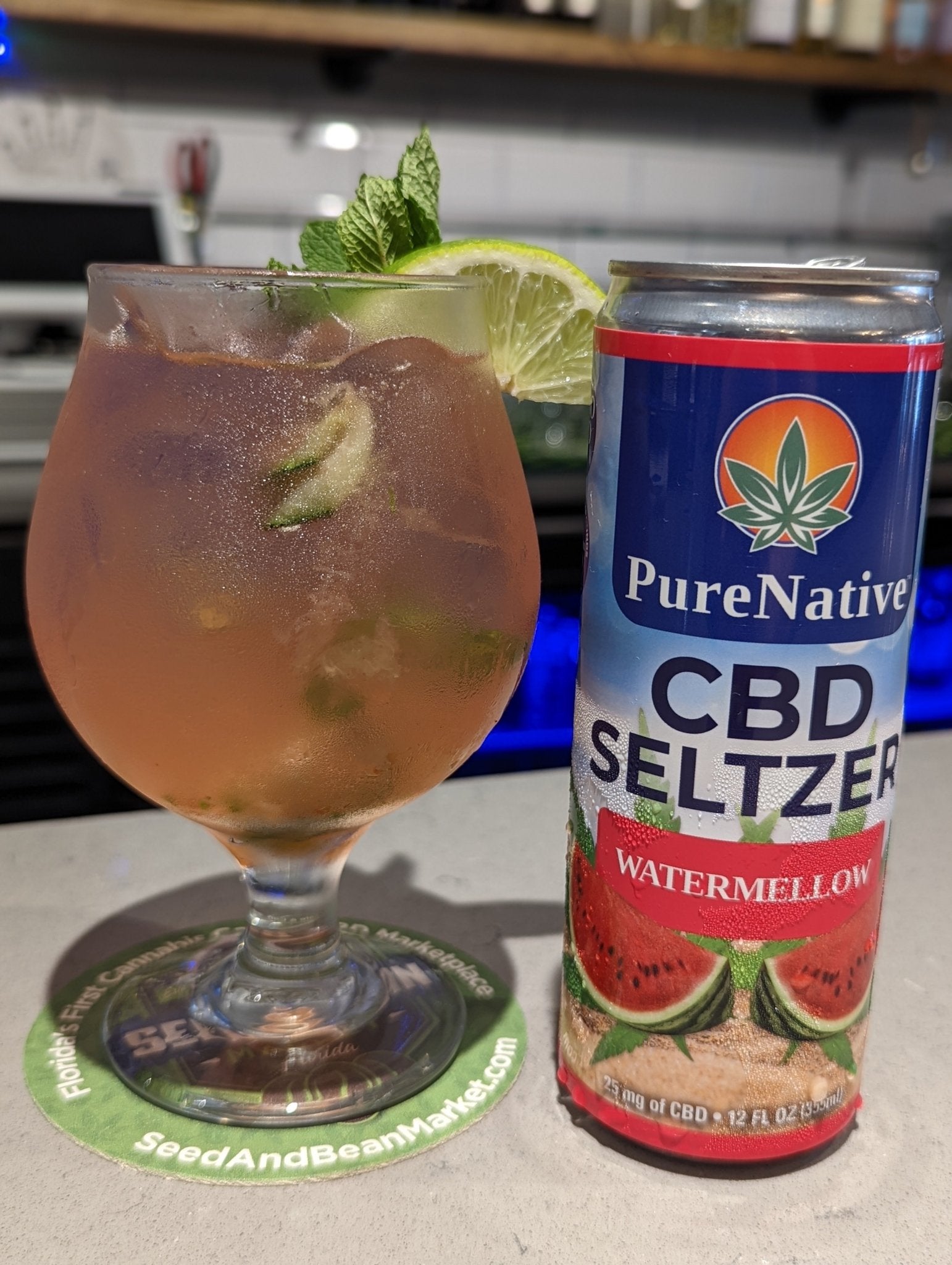 April is here, and you know what that means: Winter is over, Spring is here, and 420 is right around the corner! If you're looking for a fun way to shake up your 420 festivities, we've got the perfect recipe for you: The "Mellojito" Watermelon CBD Mojito! 
Created by the mixology masters at our sister company Seed & Bean Market, this drink is more than your average mocktail. It has all the flavor of a traditional mojito with one major difference: Instead of alcohol, it utilizes PureNative's newest flavor of CBD Seltzer as the secret ingredient. 
If you haven't tried Watermellow yet, you're in for a treat – as the latest addition to our CBD seltzer line, Watermellow combines the flavor of ripe summer watermelon with water-soluble CBD to deliver a mouthwatering burst of mellow vibes. Merging cutting-edge technology with refreshing taste, it's plant based, vegan, GMO-free, gluten-free, and allergen-free, making it a versatile crowd pleaser for any group gathering.
Try this Mellojito on your own, with a friend, or as a colorful and impressive addition to your next party menu. Happy 420! 
Mellojito with PureNative Watermellow CBD Seltzer 
1 can PureNative Watermellow CBD Seltzer

Cubed watermelon

Sliced cucumber
Simple syrup
Strawberry puree (for color, optional)
2 Lime wedges
In a shaker can, add 2 cubes of watermelon, 2 slices of cucumber and a dash of simple syrup. Muddle together and add a teaspoon of strawberry puree. Add ice, shake, and strain into a glass filled with ice. Top with ½ can of PureNative Watermellow CBD Seltzer. Garnish with lime. 
Want to try Watermellow for yourself? Purchase online here or at Seed & Bean Market locations!